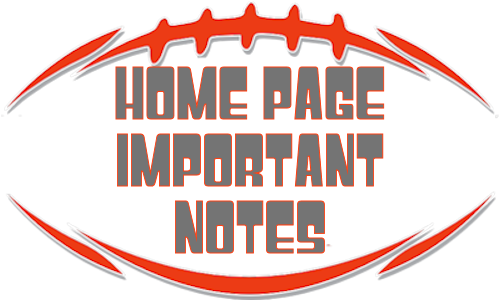 Week 12 picks have been posted... Week 12 Still Alive Standings have been posted... Week 12 Winners have been determined and the website has been updated..... All week 13 picks must be submitted by 1:00 PM ET Sunday 12/3.....
Week 12 is closed and the week 12 picks have been posted. Have a great NFL Sunday......

When you register you have the option to pick a POOL NICKNAME or use your REGULAR NAME when you submit your ENTRY FORM. Whichever you choose I add that NAME to the NFLPOOLMGR database so it knows who you are when I import your picks each week.
If you did not register and submit picks week 01; I will add whatever name you used when you submitted your week 01 picks. That will become your POOLNAME going forward, please remember it and use that NAME when submitting your picks each week.
Another common problem I encounter is people mis-spelling their POOLNAME when submitting their picks. Say you registered under Paul Smith Jr. then say for week 05 I get picks for Paul Smith. Well it's obvious who they belong too, but the NFLPOOLMGR software doesen't assume anything. Yes I most likely will enter your picks manually once or twice and will notify you via email, but if it keeps happening I won't accept them and you will get random picks for Paul Smith Jr.
Going forward when submitting picks each week; when you begin to enter your NAME it should suggest similiar names as you begin to type your name in the POOLNAME field on the PIKSHEET. So it should not be that hard to SPELL your POOLNAME each week.

EXAMPLE: My POOL NICKNAME is Commish Danno. If I begin to type the letter "C" it should display all the names in the database that begin with the letter "C". You do not need to type your whole name; although you should enter more than ONE character so that it filters out other names. Once you see your POOLNAME you can click on your name and it will automatically fill your POOLNAME in the name field on the picksheet. Same goes for the email address.

If you register with a POOL NICKNAME of "Superstar" and then submit picks with a name of "John Smith"; how am I supposed know who John Smith is.

So because I know there are a few people who will not register I will go through the pain for week 01 only of trying to figure out who you are. And only for week 01.

If you submitted picks under "Superstar" for week 01 and then for any subsequent week(s) you submit picks under another name like "John Smith". You will get random picks for "Superstar" and the picks you submitted under "John Smith" will be ignored.
When I import the PICKS into the NFLPOOLMGR software it has to find a POOLNAME match EXACTLY in the database in order to know whose picks they are. If there are picks that have been submitted and there is no matching name in the database; everything stops and I have to figure out what the problem is and I am not going through that pain other than week 01.
I'm sorry to be such a hardass about this, but it drives me crazy when this happens.